13 September Indie Games Worth Checking Out
Alas, PAX West's curtains have been drawn for another year. In the bittersweet aftermath, we've been left with several noteworthy announcements including the fully crowdfunded Homeworld 3 and a taste of what's to come in The Binding of Isaac's last expansion. September beckons with additional blockbuster productions. Borderlands 3, FIFA 20, and NBA 2K20 are all on the horizon, and Bandai Namco's ARPG Code Vein makes its sanguinary arrival during the month's tail end. A number of indies are also eager to impress, so let's evaluate the most promising.
In no particular order:
#13—Police Stories
Mighty Morgan's vision of top-down shooters involves taking everything you loved about Hotline Miami and dials down the speed. In Police Stories, each mission requires careful tactical consideration. To quote the game's trailer: shooting first is not an option. Of course, quick reflexes are still essential for neutralizing criminals. But mindlessly gunning down civilians—or accidentally sniping your partner—can attract a negative points bonus that halts level progression. Accordingly, the biggest, most authentic thrill comes from split-second decision making.
Police Stories is now on Steam. Fence-sitters can check out the free alpha through itch.io.
#12—Overland
Dusty, ochre seas. A gang of hapless vagrants. Strange beasts with a constant hunger for meat and bone. This is Overland, Finji's (Night in the Woods) doomed odyssey across the edge of post-apocalyptic America. The idea for it first sprouted in 2013, co-founder Adam Saltsman says. From there, it mutated into a strategic road-trip survival game. Overland's gameplay is bound by a turn-based harness, and as Johnathan noted, draws heavily from Darwin's natural selection theory. Squint and you might see a little Dyscourse (Owlchemy Labs) or The Flame in The Flood (The Molasses Flood).
Get truckin' on Xbox One, PS4, Steam (Win, Mac, Linux), GOG, itch.io and Switch. Keep your eyes peeled for the Apple Arcade release, too.
#11—Little Misfortune
The name Killmonday Games is practically synonymous with Fran Bow, a disturbing point 'n' click about a young girl suffering from mental ilness. Well, that same creepy magnetism is set to return in Little Misfortune. It stars a glitter obssessed little lady who, according to the game's narrator, is going to die. Themes of tragedy and domestic abuse come knocking like unwanted salespeople, but Misfortune's innocence seems to shield her from the darker details.
Playable on Steam (Win, Mac, Linux). Alternatively, you can satisfy your curiosity via the itch.io demo.
#10—Cat Quest 2
Feline hack 'n' slash Cat Quest always had a kawaii agenda. The GentleBros has wisely decided to stick to that formula for Cat Quest 2, this time incorporating an additional canine hero. There's a new tale, new weapons, more spells and co-op mode. Naturally, bigger isn't always better—especially since the prequel was so well received.
Coming to Steam, Switch, Xbox One, PS4, Android and Apple devices.
#9—Fit For a King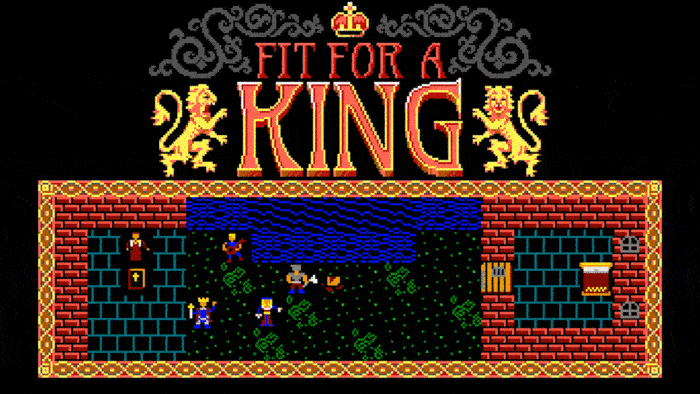 Fresh out of the Kitfox (Moon Hunters, Boyfriend Dungeon) crew's game dev oven is Fit For a King. Essentially, this is an absurdist King Henry VIII simulator which lets you "marry everything", reform the Church of England, and tax the plebs like it's going out of style.
Bend the legal system to your will via Steam or itch.io.
#8—Starpoint Gemini 3
Little Green Men Games has tweaked the Starpoint Gemini recipe for a more intimate experience. On top of the standard open-world space combat, Starpoint Gemini 3 features mocap 3D models, a story penned by Darko Macan (Star Wars: Jedi vs. Sith), and the ability to customize your ship's aesthetic.
Purchase it on Steam. If you grab a copy through GOG before October 5, you'll also receive Starpoint Gemini 2 for free. Nice.
#7—Crying Suns 
A very different approach to sci-fi combat arrives in Crying Suns, a Dune inspired tactics game that'll absorb you as much as any quality 4X. Gameplay largely consists of planetary exploration and skirmishes with 'scrappers', the resident bad guys, but there's so much more. The best (and most cleverly) implemented asset during battle is the pause button, which allows you to quickly assess the situation and plot your next move. And the adrenaline rush when you're victorious is oh so sweet, not to mention the scrap and weapon rewards that'll feed your appetite for subsequent expeditions. Some planets give you the option of sending commandos down to the surface. These sequences are automated, which may sound pretty dull at first blush, although Alt Shift avoids monotony by giving you control over how many commandos are dispatched, whether to continue progressing, and this creates a nice risk versus reward game loop.
Badass synthwave beats, pretty neon vistas and a well-written storyline certainly don't hurt, either.
You can buy Crying Suns on Steam (Win, Mac), where a free demo is also available.
#6—Blasphemous
Exaggerated Spanish folklore, punishing swordplay, and a Souls-like dark fantasy aura all help turn Blasphemous into some serious eye candy. The Game Kitchen (The Last Door) puts you in the shoes of The Penitent One, an anguished, sabenito-wearing survivor who must purge Cvstodia of the spiritual sickness that plagues it.
Reverse the curse on Xbox One, Steam, Switch, GOG and PS4.
#5—Children of Morta
Still in the mood for vanquishing evil? Dead Mage's (Shadow Blade) pixelated RPG Children of Morta needs a worthy janitor to mop up the corruption. Despite its classic fairytale veneer, the narrative has a strong focus on the mundanities of everyday life. Love, hope and uncertainty are universal⁠—even for an extraordinary family like the Bergsons.
Play it through Steam (Win, Mac), GOG, or the Humble store. PS4, Xbox One, and Switch versions will launch simultaneously on October 15.
#4—Session
Session is attempting to stage a valiant rescue of the extreme sports genre since Tony Hawk's Pro Skater 5 left a foul taste in players' mouths—a risky but commendable move on crea-ture Studios' behalf. It'll feature iconic spots like Brooklyn Banks made to scale, and promises to give players a raw, no-frills skating experience that emphasizes creativity.
Kick-flip into Session's early access version here. It's also coming to Microsoft's Xbox Game Preview with Mixer livestreaming enabled.
#3—Cube World
Picroma's Cube World is an open-world voxel RPG that had, until very recently, disappeared from the map. Its 'beep' moment has understandably swept up the fandom in a cloud of delirium, but some remain skeptical given the game's rocky alpha launch and a dearth of updates. What's being proposed today is hopefully a more mature incarnation of the 2013 offering. Cube World still has four playable classes (warrior, ranger, mague, rogue), the ability to tame pets, a nifty hang glider, and that prominent leveling system that differentiates it from the pure construction of Minecraft. A tentative release date has been penciled in—developer Wolfram von Funck estimates end of September or October.
A freshly minted Steam page has also appeared for wishlisting purposes.
#2—Noita
Noita's call to fame might just be the breathtaking amount of detail poured into its artistry. Nolla Games (Baba Is You, The Swapper) has built a procedurally generated roguelite where you craft your own magic, stone disintegrates like sugar crystals, and permadeath haunts your every step.
Check out the early access version through Steam.
#1—Untitled Goose Game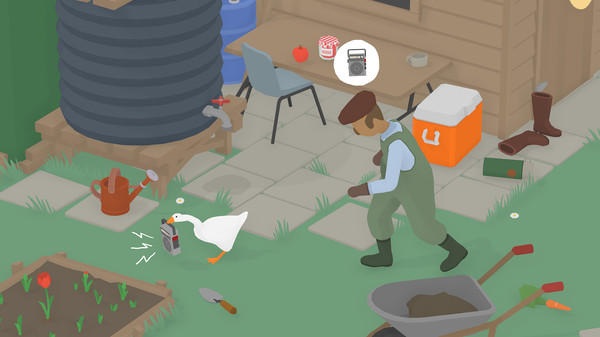 There's just something about House House games. From the squirm-inducing Push Me Pull You to its latest stroke of genius/madness, Untitled Goose Game, it's evident the developers have a knack for comedy. You play as a goose that's comfortably machiavellian. Its sole objective is to make mischief for unsuspecting village folk, but its methods are unusually intelligent. Like an avian Solid Snake, this bird hides in bushes, steals valuables, and unleashes chaos wherever it goes. Misbehaving, as it turns out, can be great fun.
Available through the Epic and Nintendo stores.
Sift through more indie content here: