8 November Indie Games Worth Checking Out
Between Death Stranding, Shenmue 3, and Valve crushing our already battered souls with the anticlimactic announcement of Half-Life: Alyx, we can say one thing for sure: it's certainly been a strange month. Let's not forget the arrival of Google Stadia either, which has been downloaded in its app form by over 150,000 people yet attracted a mixed reception. We might not be ready for cloud-based gaming in 2019, but its appeal might become more widespread as internet technology improves and becomes more accessible. In the meantime, we've rounded up a mixed platter of indie games for your entertainment.
Oh, one more thing. Gaben? We damn well hope that VR exclusive is a good omen.
#8—The Touryst
Shin'en Multimedia's The Touryst (not to be confused with the film starring Angelina Jolie and Johnny Depp) looks like the weirdest vacation ever. You inhabit the body of a bespectacled voxel traveler with specs, 'stache, and a slick 80s hairdo, and are free to go swimming, dancing, coin-collecting, or harness your inner Indiana Jones while you excavate mysterious ruins. Johnathan likens it to an antidote to the hustle of big city life.
Dive into this minecraftesque getaway adventure on Switch.
#7—Black Future '88
In Black Future '88, time has frozen. Ever since a nuclear bomb dropped, the world's turned into a cyberpunk stadium governed by a crazy zealot—and he's totally content with staying in 1988. The burden of fixing things falls on you. You'll need to muster enough vertical momentum (and patience) to climb a permanently evolving tower that's buckling at the seams with enemies. There's one catch. Each playthrough lasts a meager 18 minutes, so every murder matters. Luckily, there's a sweet arsenal of weapons, including a teleport gun and a gravity-defying revolver, to help you obliterate the hordes. It might be hard to topple the notoriety of roguelite cousin Dead Cells, but SuperScarySnakes has adorned Black Future '88 with a co-op mode that's perfect for rage-quitting together.
Get your dose of radioactive revenge on Steam, GOG, or Switch.
#6—Mosaic
Some of you may recognize Norwegian outfit Krillbite Stydio from its brief experimental game about a fly. Since The Plan, Krillbite has continued down that same philosophical tangent, and its meandering has resulted in Mosaic—a surrealist examination of mundane office work. Think The Stanley Parable crossed with Inside. You play as a nameless salaryman caught in an Orwellian web of gamification, overwork, and a desperate search for purpose.
Mosaic is currently available through Apple Arcade (iOS 13 and up required). PC gamers will get their turn soon on Steam (Win, Mac, Linux) and GOG. Xbox One, PS4 and Switch versions are also on the way.
For a taste of Mosaic's brutal take on pointless clickers, you can try its game-within-a-game, BlipBlop, on Android or iOS.
#5—Some Distant Memory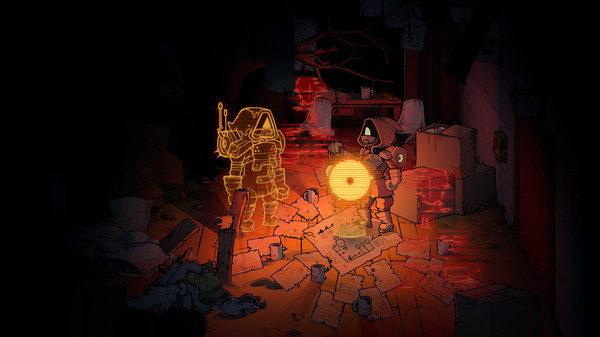 After three or so years tweaking the narrative strings, Galvanic Games has launched Some Distant Memory into the wild. Despite taking place on a ruined Earth, there's a very hopeful, pro-environmental message just beneath the surface. You're in charge of a professor who goes unearthing clues—memories—with the help of a powerful AI buddy (you might just get flashbacks to Norman Jayden's ARI in Heavy Rain). In addition to beautifully hand-drawn comic stills, the story is very much focused on warning players about a future in which pollution and climate change have destroyed almost everything. Some Distant Memory shouldn't take you more than a couple of hours to complete. It's ideal for anyone looking for a relaxed adventure that doesn't skimp on serious world issues.
Start the memory retrieval process on Steam (Win, Mac) or the Nintendo eShop.
#4—Chipmonk
Did somebody say Golden Axe? Niemi Bros Entertainment's Chipmonk! takes a shameless dip into the retro beat 'em up palette, but in the age of remasters, that's definitely a good thing. Chipmonk! is a tale of vengeance against a greedy squirrel who callously stole all the forest food reserves. The three playable characters (all chipmunks, naturally) come with distinct strengths and weaknesses. Also, if you're secretly fond of button mashing, this game delivers.
Follow the animal kingdom drama on Steam (Win, Mac) or itch.io.
#3—Wrath: Aeon of Ruin
It seems lately, old school FPSers have been receiving tons of goodies. Wrath: Aeon of Ruin is no exception. This is an undead blaster that's as hot as Hades, and KillPixel makes sure you notice. Wrath: Aeon of Ruin dares you to explore a dark, unclean labyrinth of undead, and purge the corruption that seeps through the eaves and cracks of the Old World. For an early access game running on a modified version of the Quake engine, it doesn't look half bad.
For now, you can get in on Steam and GOG. The full release is due next year, and will be coming to Xbox One, Switch, PS4 as well as Mac and Linux systems.
#2—Yaga
Yaga is a folklore centered RPG sure to stoke the fires of your heart. Firstly, the protagonist, Ivan, is cursed, and only has one hand. Of course, that doesn't stop him from being a certified Slavic badass, capable of thwarting fearsome mythical creatures. To make things more interesting, Breadcrumbs Interactive has kneaded in a choice-driven story that adapts to your actions and will ultimately influence what upgrades and hammers you'll get to use for monster culling.
Interested parties can check out Yaga on Switch, Xbox One, and PS4. It's also out on PC as a timed Epic exclusive, but given the controversies and moral quandaries surrounding exclusivity deals, you may want to pick it up on Steam next year.
#1—The Legend of Bum-Bo
Edmund McMillen's (The Binding Of Isaac) signature ugly-cute style returns in The Legend of Bum-Bo, a roguelike deckbuilder with puzzle elements. It's about a carboard boy who's lost his only coin and needs to defeat a bunch of weirdoes in the sewer to get it back. Sounds gross, but consistent. Expect bosses, unlockables, over 100 modifiable items, and lots of toilet humor.
Decide whether it's truly legendary on Steam.
Sift through more indie content here: