8 Types of Gaming Peripherals to Ask Santa for This Christmas
As you have no doubt gathered by what the shops were displaying since October(!?), Christmas is almost upon us. This of course brings with it the annual Christmas conundrums 1: What to get everybody 2: What subtle hints to drop your nearest and dearest about what you would like to find under the tree come Christmas morning.
We at Exclusively Games know how confusing and frustrating this can be, so we have created this helpful list of Christmas gaming gift ideas to help you shop for the gamers in your life. (Or to subtly leave open on your desktop when your nearest and dearest are around hint hint 😉)
Full disclosure – I have not had firsthand experience with every individual item on this list (I'm not that rich). Items which I have had first-hand experience of will be clearly identified as such and I have given honest opinions of them based on my experiences.
The remaining items have been selected based on official product descriptions and feedback from other reviewers. 
I have only used examples from well-established manufacturers with proven track records. 
Obligatory Public Service Announcement: Before splashing the cash on any of the below, we highly recommend reading and watching multiple independent unbiased reviews so you can compare, contrast and make an informed purchasing decision.
With that out of the way, let's dive in.
#1–Pro Joypads
The stock joypads that come with most consoles are good enough for general use, but for that competitive multiplayer and eSports edge, or for a generally enhanced gameplay experience, then a 'pro' controller is the way to go.
So, what does a 'pro' joypad offer that a standard one does not? Quite a bit actually, both in terms of quality and quantity. Pro pads may* be more robust than their stock counterparts, and possibly* use higher quality components.
Wireless versions may offer longer battery life too to ensure they will not run out of juice half way through extended boxing day gaming sessions.
A pro pad may feature more buttons than a stock pad too, with buttons on the underside of the controller as well as the top.
Another feature common to pro pads is customizability. Some possess variable tension thumb sticks to allow for user optimized controls and variable 'hair triggers' to allow for faster shooting. Many allow for creating distinct profiles, allowing players to fine-tune the settings for specific games and switch between them at a press of a button. Some go a step further and accommodate 'macros' – small programs which allow multiple actions to be completed with a single button press – great for pulling off complex inputs under stress, or when feeling sluggish from eating too much turkey and Christmas pudding.
Nintendo Switch Pro Controller
Amazon Price at time of writing: $55 (UK £52.99)
(USA) https://www.amazon.com/Nintendo-Switch-Pro-Controller/dp/B01NAWKYZ0
(UK) https://www.amazon.co.uk/Nintendo-Switch-Pro-Controller-Black/dp/B01N4ND1T2
Notable features:
Familiar XBox 360 style joypad with asymmetric thumb sticks.
Arguably more comfortable to use for long periods than the Switch overall or the joycons, assuming the game in question is not reliant on the switch's touch screen
Alleged 40-hour battery life
Amiibo compatibility
Nacon Revolution Pro Controller V2 RIG Edition
Price at time of writing: $74.99 (UK £80.84)
(USA) https://www.newegg.com/p/232-00MR-00002
(UK) https://www.amazon.co.uk/Nacon-Revolution-Pro-Controller-RIG/dp/B07HSRHGJH
Notable features:
4X shortcut buttons on underside – manually make adjustments on the fly
Customisable thumbsticks
4 or 8 way D-Pad
Customisable profiles
Adjustable weight
Asymmetric design – similar to Xbox joypads
#2–Gaming Mice
The stock mice that come bundled with many PCs are not ideal for gaming, as they were not designed with gaming in mind. Comparatively imprecise inputs and only three buttons conspire to render stock mice less-than-ideal input devices. A dedicated gaming mouse is an entirely different beast however. One immediately apparent difference is that a gaming mouse will feature more buttons, usually on the sides where they can be reached easily with the thumb and pinkie finger. This is a real *ahem* 'game changer'.
Some larger gaming mice take this a step further, featuring what amounts to whole keypads on their flanks. In addition, some of these additional buttons can be assigned macros. These are particularly popular with players of MOBA games such as DoTA2 and MMORPG such as World of Warcraft as they can make performing multiple actions in a sequence as easy as a single button press.
Another advantage gaming mice have over stock mice is their greater sensitivity, in turn allowing for faster cursor speed and pixel perfect precision. Some feature on-the-fly variable DPI settings to suit different situations. Some even feature a 'sniper mode,' perfect for scoring headshots from across the map.
As with some pro joypads, customization is the order of the day with gaming mice. Some feature multiple configurable profiles, allowing gamers to create fine-tuned settings for specific games and then switch between them at the press of a button.
Gaming mice come in a range of shapes, sizes and weights. Therefore, even players with particularly small or very large hands are catered for too.
Gaming mice come in both wired and wireless varieties. Wired versions have traditionally offered superior control and reduced 'input lag' compared to wireless versions, although some recent wireless gaming mice have allegedly narrowed this gap considerably.
Gaming mice often have a distinctive aesthetic, replete with customizable RGB lighting.
If you need any extra motivation (or justification 😉) for splashing out on a gaming mouse, then consider this – all these advantages will make it a much better 'work and general use' mouse as well. Speaking from personal experience, once you have become accustomed to the fluidity and precision of a gaming mouse, going back to a stock mouse, even for non-gaming purposes, will feel distinctly '20th Century' in comparison.
Corsair M65 PRO RGB Optical FPS Gaming Mouse
Amazon Price at time of writing: $58.95 (UK £34.98)
(USA) https://www.amazon.com/CORSAIR-M65-Pro-RGB-Adjustable/dp/B01D63UU52
(UK) https://www.amazon.co.uk/Corsair-Adjustable-Programmable-Multi-Colour-Backlighting/dp/B01D524BUY
Notable features:
Sniper mode
Adjustable on-the-fly sensitivity
Adjustable weight
Authors note: I had the earlier version of this, the M65 and had a generally good experience with it. Only downside for me was its rather large size which was not ideal for my rather small hands. This made reaching the side mounted buttons difficult. Other users with equally small hands, not to mention children, may have similar problems. Users with medium to large hands should have no problems however.
CORSAIR Dark Core SE – RGB Wireless Gaming Mouse
Amazon Price at time of writing: $59.99 (UK £127.50)
(USA) https://www.amazon.com/CORSAIR-Dark-Core-Comfortable-Ergonomic/dp/B07B7HYBQW
(UK) https://www.amazon.co.uk/CORSAIR-Dark-Core-Comfortable-Ergonomic/dp/B07B7HYBQW/
Notable features: (Taken from amazon listing and manufacturers' website)
Ultra-fast 1ms 2.4GHz and low-latency Bluetooth wireless technology
Charge wirelessly with CORSAIR MM1000 or any compatible Qi wireless charging pad
Custom, gaming-grade, native 16,000 DPI optical sensor with 1 DPI resolution steps for high accuracy performance
Contoured shape and two included interchangeable side grips provide a tailored fit
Onboard storage with hardware macro playback to take your gaming profiles with you
Nine fully reprogrammable buttons
Surface calibration tuning utility
RGB lighting
On board storage for macros, DPI settings and profiles
#3–Gaming Keyboards
Fish n' chips, ham n' eggs, Gaming Mouse and Gaming keyboard – some combinations simply go well together. So, if you are asking Santa for a gaming mouse, why not ask for a gaming keyboard to go with it?
You may be asking "what does a gaming keyboard do differently to a stock keyboard?" Similar to how pro joypads compare to stock joypads and how gaming mice compare to stock mice, the main differences are quality and customizability.
Probably the most important functional difference is that most gaming keyboards use 'mechanical keys'. The video below explains the differences between 'membrane' and 'mechanical' keyboards, and why the latter are considered superior.
A mechanical keyboard is thus useful if you spend a lot of time typing, and since most gaming keyboards use mechanical keys, why not kill two birds with one stone?
Gaming keyboards can come in various shapes and sizes, including the compact 'tenkeyless' designs which remove the number keypad entirely to supersized keyboards with multiple additional macro, media and reprogrammable keys.
Gaming keyboards often feature customizable RGB backlighting. Not only does this look cool, it can help finding keys in the dark, useful for late night gaming sessions – or when burning the midnight oil to get that article completed or the needs-to-be-handed-in-tomorrow assignment done.
Razer Cynosa Chroma Gaming Keyboard with Razer Chroma RGB Lighting
Amazon Price at time of writing: $49.97 (UK £50.98)
https://www.amazon.com/Razer-Cynosa-Chroma-Gaming-Keyboard/dp/B075KMZ4MX
https://www.amazon.co.uk/Razer-Individually-Spill-Resistant-Anti-Ghosting-UK-Layout/dp/B077XVMGPS/
Notable features: (Taken from amazon listing and manufacturers' website)
Featuring individually programmable backlit keys and 16.8 million color options, create your own distinct palette of colors for a gaming experience that's truly yours.
The soft cushioned gaming keys provide comfort with better housing support compared to rubber dome keyboards, so every keypress is solid.
Thanks to its spill-resistant design, the Razer cynosa chroma withstands accidental spillage so your keyboard's lifespan is extended a whole lot longer.
With built-in 10 key roll-over and Anti-Ghosting technology, your key presses are always registered so you can execute up to 10 commands at the same time.
With Razer Synapse 3 (Beta), you can rebind buttons, assign macros, personalize device lighting and more to transform your gameplay just the way you want it.
Authors note: This does not use mechanical keys.
Logitech G513 RGB Backlit Mechanical Gaming Keyboard
Amazon Price at time of writing: $125.99 (UK £99.99)
(USA) https://www.amazon.com/Logitech-Backlit-Mechanical-Keyboard-Keyswitches/dp/B07B2XDX45
(UK) https://www.amazon.co.uk/Logitech-Backlit-Mechanical-Keyboard-Switches/dp/B079YX8DJ4/
Notable features: (Taken from amazon listing and manufacturers' website)
High-performance RGB keyboard with customizable full spectrum color lighting per key plus LightSync game-driven lighting colors and effects
Enhanced Romer G mechanical key switches for 25 percent faster responsiveness and high smooth keystroke feel
Soft and strong memory foam palmrest for high comfort and durability that resists sweat and wipes clean
Aircraft grade brushed aluminum alloy top case for a high-end look that seals components with rugged protection
Convenient USB pass through port makes it a snap to plug in your mouse, flash drive or phone for direct data transmission or charging
#4–Gaming Headsets
If playing on-line with friends, then a gaming headset is a must. You will be able to hear the action on-screen, listen to and speak with team mates all whilst keeping the noise down so that your late-night gaming sessions do not wake the rest of the household / neighbors / people in the next town over etc.
Similar to standard headphones, headsets come in various types, including wired, wireless, on-ear, over-ear, open backed, closed back, noise cancelling, and surround sound varieties. They come in a range of price points, with entry level headsets starting as low as £40, and high-end audiophile headsets from companies such as Sennheiser coming in at around £200.
HyperX HX-HSCS-BK/EM Cloud Stinger Gaming Headset 
Amazon Price at time of writing: $43.99 (UK £39.99)
(USA) https://www.amazon.com/HyperX-Cloud-Stinger-Comfortable-Noise-Cancellation/dp/B01L2ZRYVE
(UK) https://www.amazon.co.uk/HyperX-HX-HSCS-BK-EM-Stinger-Headset/dp/B01LRX2DSA
Notable features: (Taken from amazon listing and manufacturers' website)
Lightweight headset with 90 Degree rotating ear cups.
50 mm directional drivers for audio precision, HyperX signature memory foam and adjustable steel slider, intuitive volume control on headset ear cup, Swivel-to-mute noise-cancellation microphone.
Frequency response – 50 Hz-18,000 Hz.
Sennheiser GAME ZERO Professional Noise Blocking Gaming Headset
Amazon Price at time of writing: $117.95 (UK £197.20)
(USA) https://www.amazon.com/Sennheiser-GAME-Gaming-Headset-Black/dp/B00KNPYAEY
(UK) https://www.amazon.co.uk/Sennheiser-ZERO-Professional-Blocking-Headset-White/dp/B00GXW8358/
Notable features: (Taken from amazon listing and manufacturers' website)
Keep your head cool while gaming
Frequency response (Headphones): Headphones: 15 Hz – 28,000 Hz. Sound pressure level (SPL): Headphones: 108 dB
Intuitive control – the volume control is integrated on the right ear cup
Exchangeable cables for multiple platform usage
GAME ZERO has exchangeable cables allowing compatibility with multiple platforms such as PC, Mac, consoles, mobiles and tablets that feature a 3.5mm jack input
Total harmonic distortion – Headphones: < 0.1 Percent
Note: Plug in cables correctly into the ear cups to ensure long-term stability.
Author's Note: I have not heard anything through the GAME ZERO, however the circa £35 Sennheiser HD-201 headphones I used to have were superb for gaming, so I imagine these would be even better.
#5–VR Systems
VR is a strong contender for the future of gaming. For total immersion and player interactivity there is no real competition – at least until Elon starts streaming content straight to your brain.
The latest VR devices are wireless, allowing total freedom of movement without risking getting caught up in your own wires. Some are even all-in-one devices that do not require a separate PC or console to work with, allowing you to take your new prezzie with you when visiting friends and relatives on boxing day. (Although it would probably be best to show it off before everyone starts on the mulled wine.)
Oculus Quest All-in-one VR Gaming Headset – 128GB
Amazon Price at time of writing: $999.00 (UK £499.00)
(USA) https://www.amazon.com/Oculus-Quest-All-Gaming-Headset-android/dp/B07PRDGYTW
(UK) https://www.amazon.co.uk/Oculus-Quest-All-Gaming-Headset/dp/B07QPKZKL5
Notable features: (Taken from amazon listing and manufacturers' website)
Next level gameplay: Launching with original games and experiences like Vader Immortal: A Star Wars VR Series.
All-in-one VR: Simply set up the device with your Oculus mobile app and Oculus Quest has everything you need to explore VR, right out of the box.
Insight tracking: Oculus Insight tracking system instantly reflects your movements in VR without the need for any external accessories.
Touch controllers: Oculus Touch controllers precisely recreate your hands, their gestures and interactions, so every game is real enough to reach out and touch.
Beyond room-scale: Oculus Quest works with your environment, so you can play standing or sitting, in spaces big or small.
#6–2.1 and 4.1 Surround Sound Gaming Chairs
What is better than hearing the boom of explosions or the report of your super shotgun? Feeling them. There are several ways to go about this. One solution is to hook a tactile transducer, aka 'bass shaker', to an existing chair. A simple turnkey solution is the Buttkicker Gamer 2 for pole style office / gamer chairs. If gaming on the couch, then attaching a bass shaker unit as seen in this video is an option – although it may involve some light DIY to install it.
If, however, you are in the market for a new chair anyway, then getting a chair with a bass speaker preinstalled–usually in the seat's lumbar region–is a superb option that will allow you to feel the action, whether you are gaming, watching TV or listening to music. They come in various styles, including the folding X rocker types – great for stowing away after gaming on the floor, pedestals for additional height, office style chairs with wheels and even recliner 'lazyboy' style chairs for that extra 'I'm gaming all day and not getting up any time soon' comfort. Once you have experienced gaming you can feel you will not want to go without it ever again.
Note that the bass speakers in most gaming chairs are responding to the source material's LFE sound, not to specific in-game actions. As such, they may not provide the same level of discreet body area specific feedback the haptic feedback vests and seat covers claim to (See section 8).
Author's note: I have experienced 2.1 and 2.0 gaming chairs first hand (I'm sitting on one now as I type this), and I can attest that if you are simply seeking to feel the bass pulsing through your lower back and making your bones rattle then a gaming chair is perfectly sufficient, not to mention awesome.
ButtKicker Gamer 2
Amazon Price at time of writing: £398.00
https://www.amazon.co.uk/ButtKicker-Gamer-Set-Version-2-0/dp/B000LQUJSQ/
Expensive option, but allows almost any existing single post style chair to become a tactile transducer enabled gaming chair.
X Rocker G-Force 2.1 Floor Rocker Gaming Chair
Amazon Price at time of writing: $124.95 (UK £115.00)
(USA) https://www.amazon.co.uk/Rocker-G-Force-Faux-Leather-Black/dp/B074H36HCL
(UK) https://www.amazon.co.uk/Rocker-G-Force-Faux-Leather-Black/dp/B074H36HCL/
Notable features: (Taken from amazon listing and manufacturers' website)
2.1 headrest mounted audio with a backrest situated subwoofer for added depth.
Attractive black, grey and orange design.
Faux leather padded armrests for additional comfort and support.
Foldable for easy storage.
Soft and durable faux leather and breathable mesh fabric with a generously padded foam interior.
Authors note: I owned one of the very first folding x rocker 2.1 chairs back in 2008. It was superb, so I would imagine this updated version is even better. 
NB – I would not recommend daisy chaining a 2.1 gaming chair to a 5.1 surround sound system and the TV's speakers. When I did this, I blew my X rocker's power supply unit. This is why I said 'owned'- past tense. 
BraZen Commander 4.1 Bluetooth and Wireless DAC Recliner
Amazon Price at time of writing:  £349.95
https://www.amazon.co.uk/BraZen-Commander-Bluetooth-Wireless-Recliner-Black/dp/B077YL6W9Z
Notable features: (Taken from amazon listing and manufacturers' website)
4.1 surround sound
Bluetooth enabled
Wireless connectivity
Ships with DAC (Digital Analogue Conversion) kit and a range of cables
Gaming chair, sound chair, recliner
Dedicated three motor vibration
Digital Analogue Conversion Kit
1.1 headrest and seat mounted wireless audio
#7–RGB Systems
For pure eye-candy appeal, treat yourself, or the PC gamer in your life, to the visual treat of an RGB system, so (your / their) PC is styling' whilst (you / they) are gaming' – especially if (you / they) have a glass sided PC case to show it off with.
LED Light Strips TV Bias Backlight Kit
Amazon Price at time of writing: $14.99 (UK £14.99)
(USA) https://www.amazon.com/lights-Vansky-Lighting-Powered-Backlight/dp/B01N21BGJT
(UK) https://www.amazon.co.uk/Backlight-Waterproof-Lighting-Decorations-Meters-6-6/dp/B06XZ1XJ85
Notable features: (Taken from amazon listing and manufacturers' website)
Waterproof Accent RGB Monitor Lighting Strip with Remote Control.
16 Colors.
60 USB Powered LEDs for HDTV and desktop monitor decorations (2 Meters-6.6 ft)
#8–Haptic Feedback Devices
If you want to take your immersivity to the next level, then a haptic feedback device is for you. Haptic feedback is the technical term for feeling what is happening on screen. If you have felt a joypad vibrating in game, or the small vibrations you feel when tapping on your smartphone, then you have experienced haptic feedback. Now imagine that all over your torso, or specific parts of your torso depending on where you have been hit in game.  This is exactly what a haptic feedback vest claims to do. Not only can they make for a more immersive experience, they can *allegedly* improve your gameplay performance by allowing you to feel the direction your in-game avatar is taking damage from.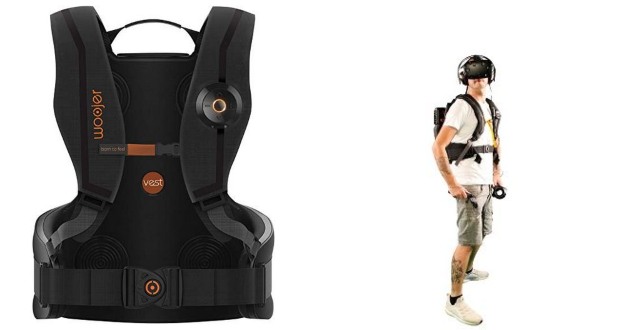 Woojer Vest Pro
Amazon Price at time of writing (Pre-Order): $799.00
https://www.amazon.com/Woojer-Vest-location-specific-built-Android-iOS/dp/B07Q6VJLWF/
Notable features: (Taken from amazon listing and manufacturers' website)
Out-of-the-Box Stereo Haptic Mode (4 LEFT / 4 RIGHT) – Vest connects via Bluetooth or 3.5mm audio jack (not included) and supports pretty much all game consoles (Xbox, PS4, Switch), VR Headsets (PSVR, Oculus Rift/Go/Quest, HTC Vive/Pro/Focus, Gear VR etc.) Mobile Phone & Tablets (iPhone, Samsung, LG, Xiaomi, Huawei, Nokia etc.), PCs and TVs. NOTE: Game Consoles require a certified BT dongle for BT connection (not included)
7.1 Full-surround Haptic Mode (8 location-specific haptic zones) – Vest connects via USB cable (included) to all supporting 7.1 content (games/movies) and devices (e.g. PCs, PS4 Pro, Samsung 8/9/10, etc). NOTE: Some game consoles and supporting TVs require a DAC for extracting 7.1 sound from their HDMI output (DAC and cables not included).
Lightweight, Durable, Powerful & Sleek – Lightweight, high-end breathable & wipe-able fabrics.
For seated haptic feedback there are a number of seat covers / pads / cushion thingies (seriously – they are so new there isn't a standard term for them yet) which you can lay over your favorite seat to turn it into an instant haptic gaming chair. These too feature multiple discrete tactile transducers allowing for precise tactile feedback across the back of your body. *Allegedly* they can also function as back massage chairs too.
So there we have it, my top 8 types of gaming peripherals to ask Santa for this year.
What are your thoughts? Was this useful? Would you like to find any of these under your tree? If so which ones and why? Is there anything you would like to find that isn't on the list but you feel should be? Again, if so which ones and why?
Please share your thoughts with us here at Exclusively Games and our ever-expanding community of gamers in the comments section below.
NB – Please ensure that the language used in comments – be they directed to Exclusively Games staff or other members of the community – is kept clean and the tone is respectful. Constructive criticism is always welcome; insults, however, are not.
Iain is a 40+ gamer from England, who started his gaming journey on the Atari 2600 35 years ago. Since then he has logged screen time with almost every system – including the ones that were largely unheard of outside of the UK. He has been writing about videogames (amongst other things) for three years now with various publications, including Nomad's Reviews, Vocal Media and Coin-Drop.com. His specialties include retro games, obscure cult classics, mods and fan remakes. He hates all sports games and is allergic to on-line multi-player. Since he is English, his body is about 60% tea.
He can be reached via Twitter at https://twitter.com/Nomads_reviews.